Retrojetting of Pipe System
Retro jetting of pipe systems can be described as a cleaning system designed for internal cleaning of pipes, process lines, sewers, and tubes.
Retro jetting has been widely used in Industrial Cleaning applications for the removal of deposits from process lines, tube bundles, heater coils and sewer lines for many years.
Due to the nature of the working process, retro jetting has been utilized by Major Oil and Gas Companies for commissioning purposes prior to process lines being in put into service, pre commissioning stage of new build oil and gas plants, oil rig modules during construction phases and during hook up stages.
Retro jetting offers a far superior system of cleaning process pipelines than standard flushing procedures. There are several plus factors that can be recognized immediately by understanding the process of cleaning that retro jetting alone can achieve.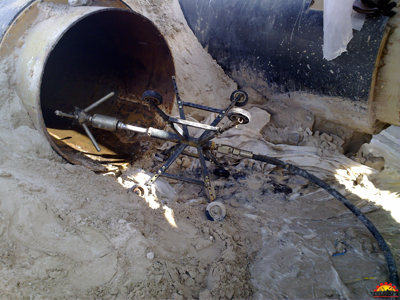 These superior cleaning factors are due to the High Pressure Nozzles with various water Jets traveling into the pipe system under a High Pressure and large volume of water. The High Pressure Nozzle can travel around bends and in some cases through open valves.
The nozzle water jets are allowed to travel through the pipe or tube systems by the natural pulling force created by rearward facing water jets on the nozzle head. When these powerful water jets pass over any internal debris the debris is dislodged and forced out the pipe system. Using the retro jetting technique, pipe internal walls can be cleaned and flushed from small diameter of 3" up to 72" and above.
Many of our customers choose the method due to the time saving, the reduced water consumption, and the high level of cleanliness achieved to meet and supersede their specification. The system is specified for North Sea operations as a superior alternative to conventional pipeline flushing techniques.
Pipeline configuration will often determine the type of nozzle selection and the pressure and flow requirements of the high pressure pump unit.
Once the parameters above are determined the equipment is set up on site with all operations undertaken in a controlled manner, far superior operational techniques than conventional flushing is achieved by the professional approach of our technicians. The retro jetting techniques are often utilised to remove all debris created during the construction phase of any new build or rehabilitation projects
Subsea pipelines can be cleaned with the retro jetting techniques subject to depth of pipeline in most cases. Giant GPEM LLC have successfully cleaned subsea pipeline diameters of 2m, removing all marine growth to lengths up to 750m from offshore and onshore directions. We have developed suitable accessories to undertake this type of cleaning work which is required for various industrial facilities including refinery Oil and Gas sea water intakes, desalination plants, process facilities utilising seawater for their cooling water and firefighting water supply.