Under Water Maintenance
Our High pressure equipment is also used for many Sub Sea maintenance projects. For all subsea work we work alongside established diving companies as a supplier or JV for a variety of projects.
Marine growth removal from Subsea pipelines, vessel hulls and pipeline refurbishment, subsea cold cutting have been some of the projects where we have been involved in over the recent years.
Our high pressure pump units with a variety of accessories including diver's retro guns have been widely used for the removal of marine growth on subsea risers as a common working situation.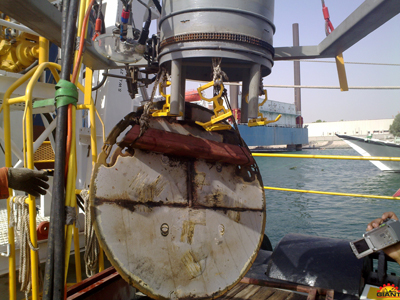 We have also been involved in the internal pipeline cleaning of sea water intake projects, usually when these internal pipelines have been heavily fouled with marine growth.
Cleaning the internal of subsea pipelines requires the use of a specialist pipeline cleaning system and accessories often unique for each problem encountered. A full marine spread including vessel or barge to house our containereised HP Pump units, HP Hose reels with up to 500m of HP hose, winch along with Compressor and further unique accessories.
These sea water intake systems are vital for the process of water to be supplied throughout the petrochemical and Oil and Gas industries.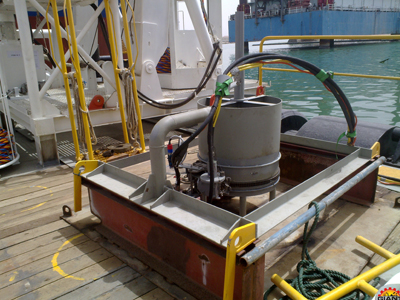 Not only do they require the water for their process uses they also rely on the system to operate their fire water mainline systems.
Divers using our retro dive guns are working to maintain a multitude of offshore structure which require periodic inspections including SBM systems and their mooring chains and anchor systems.
The use of underwater high pressure blasting can also be used in a controlled environment for pipeline weight coat removal projects.
Here it is essential to inspect various pipeline components throughout the life of the pipelines. Weight coat is used as a concrete cover over the subsea pipelines and requires removal of the weight coat for inspections to be carried out. On some of these projects we can arrange to supply an automated concrete demolition system to rapidly remove the weight coat.
Additionally, we have effective automated and semi-automated systems for steel and concrete pile cleaning operations. The clients are often required cleaning of tubular piles on their process line pipe rack piers for inspection and re coating. Marine growth in the tidal zone and lack of access systems to inspect the piles after cleaning operation has been a problem in the past.
Giant GPEM LLC has developed varied devices and methods of access with our technical personnel and suppliers to clamp onto the piles and clean piles automatically back to the original surface for inspection.
The client can even view the surface through a camera if required which can be installed on the tool carrier.