Water jet Assisted Pile Driving
Driving and pulling of sheet pilings, Trench Sheets, tubular piles, and Double sheet piles have been carried out for many years using Mechanical Methods such as pile drivers and Vibro Hammers.
Both the pile driver and the Vibro Hammers have technological disadvantages such as difficult soil conditions and problematic surrounding infrastructure.
Nowadays supporting systems have been added to assist in driving piles through difficult soil conditions and due to urban restrictions with noise levels. These supporting systems can be used to variable degrees to assist in driving piles by lowering the vibration, impact noise and speeding up the process./p>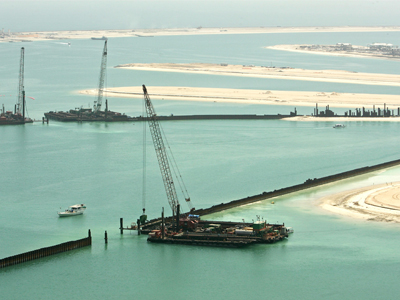 Water jetting has been successfully used for many years throughout Europe and more recently in the Middle East. Giant GPEM LLC management and technicians have been involved in water jetted assisted pile driving in recent years in the Middle East,
projects including Jumeirah Palm Island, Ruwais quay strengthening, Sharjah Quay extension Port Khalid, Hamriyah small boat berth, Ghantoot berth all benefited from utilising waterjet assisted pile driving techniques.
This has been generally due to the expansion of construction around the Gulf Area, such as new ports and jetties, along with the reclamation of land in areas for new housing infrastructures such as Palm Island's in Dubai.
The subsea ground condition in many of these areas along the Arabian Gulf coast has proven problematic for driving both sheet piles and tubular piles for construction of harbours, ports, jetties and these new reclaimed manmade islands.
These tough subterranean conditions have now been conquered using water jetting as a supporting system for pile driving.
How the water jetting technique works.
High-pressure water jets are installed at the toe of the sheet pile via a high-pressure lance's or tubes. Various methods have been used with nozzles of a single jet or multiple jets.
The high-pressure jets are situated at various points of the driven pile dependent on the type of soil ground conditions. Softer materials such as clay, sand and harder material such as marl, various dense soil types, bed rocks, cap rock, and calcarenites have been water jetted to assist in pile driving.
Here in the Middle East, the variety of materials exist in several layers. Piling up to the depths of 30 meters deep has been carried out with our assistance.
It has been noted that up to 3-4 layers of hardened materials can be found in depths of minus 25 meters from sea level.
Due to the nature and density of the cap rock encountered, it is necessary to use high pressure water up to 8,000 psi (550 bars) with flows up to 110 litres per minute per nozzle. With Pile jetting set up with multiple nozzles being utilised, a single pile system may require 660 litres per minutes (Sea water can be used)
The high-pressure nozzles are installed at the toe of the sheet pile. When difficult rock is encountered more nozzles are required with more flow. Several high-pressure pumps are used in tandem to allow for efficient pile driving are often used.
Trial pile drives are usually necessary to ensure that the correct methods, amount of pump units required and the most economic jetting systems are installed on the piles to be driven.
Sacrificial nozzles and lances have been used; this can prove costly to the piling contractor. Giant GPEM LLC can design the water jetting system to suit the projects encountered. Including in our system designs we can retrieve the nozzles and lances from each pile drive.
Giant GPEM LLC management and technicians have successfully carried out (along with pile driving contractors) more than 17,000 individual pile drives throughout the region.
Our Pile driving services are offered with our equipment and technicians to assist with contractors on their projects.
We offer our expertise and accessories to ensure the contractor has the best accessories for each project.